Are you in need of a professional and reliable roof repair contractor? Look no further than CIMA Contractors. We specialize in providing top-notch roofing services to commercial and residential clients throughout the Portland area. Our team of experienced professionals is dedicated to delivering high-quality workmanship and excellent customer service.
Why Choose CIMA
roof repair contractor

?
Experience: With over 20 years of experience in the roofing industry, our team has the knowledge and expertise to handle any roofing project, no matter how big or small.
Quality Workmanship: We take pride in our work and ensure that every job is completed to the highest standard of quality. We use only the best materials and equipment to ensure that your roof is built to last.
Customer Service: Our team is dedicated to providing excellent customer service. We understand that a roof repair can be a stressful and daunting experience, which is why we work closely with our clients to ensure that the process is as smooth and stress-free as possible.
Affordability: We offer competitive pricing and flexible financing options to ensure that our services are affordable for everyone.
Guaranteed Satisfaction: We stand behind our work and offer a satisfaction guarantee. If you're not completely satisfied with our services, we'll do everything we can to make it right.
Our Roof Repair Services
At CIMA roof repair contractor, we offer a wide range of roofing services to meet the needs of our clients. Some of our most popular services include:
Roof Repair: We specialize in repairing all types of roofing systems, including flat roofs, pitched roofs, and metal roofs. Whether you have a minor leak or major damage, we can help.
Roof Replacement: If your roof is beyond repair, we offer full roof replacement services. We'll work with you to choose the best materials and design for your needs and budget.
Roof Maintenance: Regular roof maintenance is essential to prolonging the life of your roof. We offer comprehensive maintenance services to keep your roof in top condition.
Emergency Roof Repair: Roof damage can happen at any time, which is why we offer emergency repair services 24/7. We'll be there when you need us most.
Our Process
At CIMA roof repair contractor, we believe that transparency is key to a successful roofing project. That's why we follow a strict process to ensure that our clients are informed and involved every step of the way.
Inspection: We'll conduct a thorough inspection of your roof to determine the extent of the damage and provide you with a detailed estimate.
Design: We'll work with you to choose the best materials and design for your needs and budget.
Installation: Our team of experienced professionals will install your new roof using the best materials and equipment available.
Clean-up: We'll leave your property clean and tidy, with all debris and waste removed from the site.
Follow-up: We'll follow up with you after the project is complete to ensure that you're completely satisfied with our work and answer any questions you may have.
Contact Us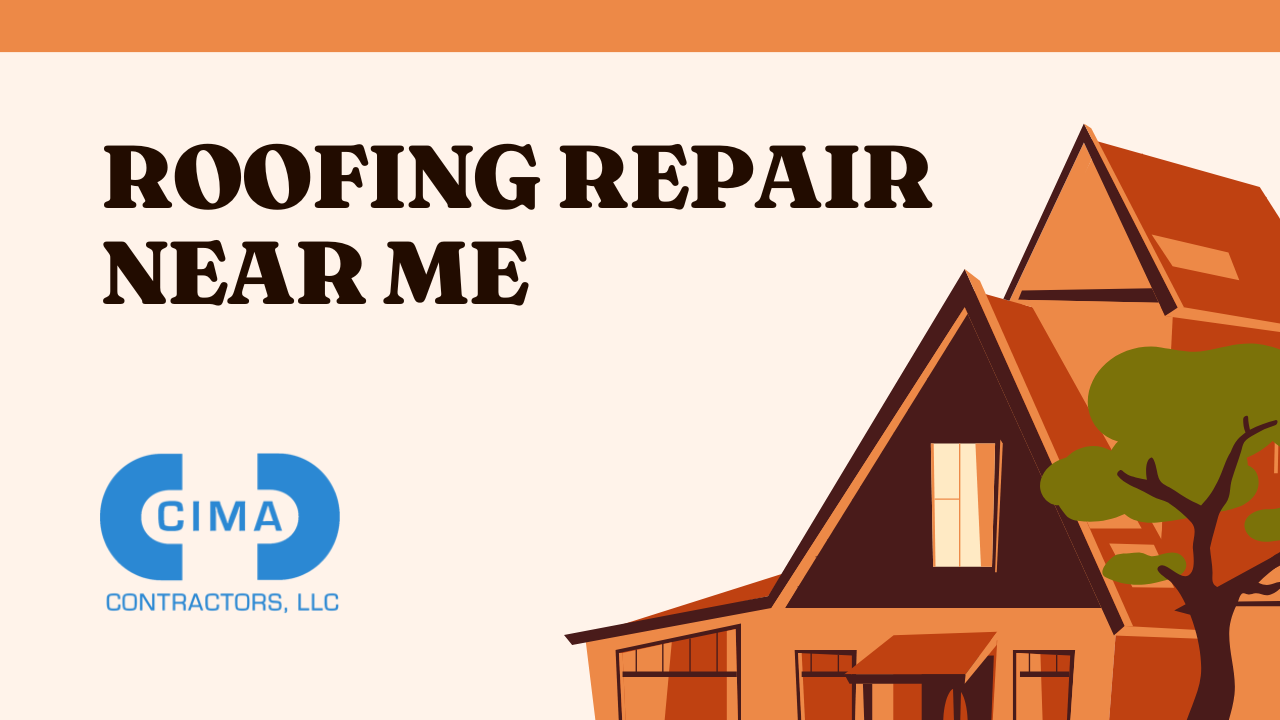 FAQs
How do I know if I need roof repair?
Some common signs that your roof may need repair include leaks, missing or damaged shingles, sagging or buckling, and visible damage such as cracks or holes. If you're unsure whether your roof needs repair, it's best to have a professional inspection.
How long does a roof repair take?
The timeline for a roof repair can vary depending on the extent of the damage and the type of repair needed. Minor repairs may only take a few hours, while more extensive repairs or replacements can take several days or even weeks.
Is roof repair covered by insurance?
It depends on your insurance policy and the cause of the damage. Most policies cover damage caused by severe weather such as hail, wind, or lightning, but may not cover damage caused by neglect or wear and tear. It's best to check with your insurance provider to determine what is covered.
How often should I have my roof inspected?
It's recommended to have your roof inspected at least once a year, preferably in the spring or fall. Regular inspections can help identify potential issues before they become major problems.
Can I do my own roof repair?
While minor repairs such as replacing a shingle may be possible for a DIY project, it's generally not recommended to attempt major roof repairs on your own. Roofing can be dangerous, and improper repairs can lead to further damage and expense.
If you're in need of a reliable roof repair contractor in Portland, look no further than CIMA roof repair contractor. You can contact us today to schedule a free inspection at 972-905-0673 or by filling out our online booking form here. We also invite you to browse our website and learn more about our services, including our commercial roofing services here. At CIMA roof repair contractor, we're dedicated to providing high-quality roofing services at an affordable price. Contact us today to learn more.roof repair contractorroof repair contractorroof repair contractor